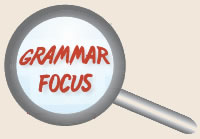 Expressing opinions - Making suggestions
Study the sentences to see how we can express opinion or make suggestions.
I think that driving to work costs a lot of money.
I don't think that driving to work is a good idea. It is tiring!
It seems to me that walking to school is a very healthy habit.
In my opinion, going to work by bus is cheap and convenient.
Why don't you use public transport instead?
How about walking to school rather than taking the bus?
Let's all go to the city centre in the metro tomorrow!
WWF (World Wildlife Fund) have an international campaign about how we can make our lives better. They want children's ideas, opinions and suggestions on problems in big cities. Discuss with your partner; write some possible answers to the problems mentioned in the following leaflet. Exchange ideas with other pairs in your class and see what they think. Use the expressions in the "Grammar Focus" table above to help you.